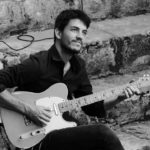 Jean-Baptiste Hardy was born in 1989, and grew up in south of France. He started classical guitar at the age of eight, and studied it for 10 years. In the same time he discovered and learned Chet Atkins and Jerry Reed fingerstyle repertoire. In 2003, 2005 and 2007 he attended the Chet Atkins Appreciation Society festival in Nashville, and was lucky to perform there and meet with great players such as Tommy Emmanuel, Buster B Jones, Jim Nichols, Bruce Mathiske, and many more.
Young guitarist moved to Paris in 2006, started to play in jam sessions, and to perform concerts in several music places, as a sideman and band leader, mixing lots of genres, from fingerstyle to blues, rock, gospel, and world music. He started composing, at the beginning mostly fingerpicking pieces for solo guitar, but also some songs, for which he also wrote lyrics. During this period, he also started teaching the guitar. In the same time, Jean-Baptiste was attending university, and obtained a Bachelor degree in Economics in 2009 and a Master degree in Business in 2011.
In 2012, he decided to live in Istanbul where he could fully devote to his musical career. Istanbul Francophone Music School quickly recruited him as a Guitar teacher. As Jean-Baptiste is always looking forward to discovering and learning, he started to study jazz on his own, and developed a great knowledge in harmony and improvisation.
Early swing and manouche guitar, through great influences such as Django Reinhardt or Bireli Lagrene, and then bebop, bossa nova, funk or fusion got added to his rich repertoire.
Today Jean-Baptiste often performs with his trio or quartet on the Istanbul jazz scene, but also with other bands or singers. He has just released his new album On verra, which received its name from his first composition, created almost 10 years ago.